Category List
Tag List
Tag Cloud
Archive
'Lifesaving fundraising for Shuttlewood Clarke Foundation defibrillators '
Feb 19, 2019
'Lifesaving fundraising for Shuttlewood Clarke Foundation defibrillators '
We were thrilled to have been nominated as charity of the year in 2018 by Bradgate Rotary Club and Arthur J Gallagher Insurance. We are  delighted that the monies raised have now been used to install invaluable equipment at the Grange community support and wellbeing centre and Ulverscroft Manor properties.
Louise Moore Principal Manager said "We are so grateful to Bradgate Rotary and Arthur J Gallagher for their generous fundraising for the Foundation. We are delighted to have purchased important lifesaving equipment for the Foundation's Ulverscroft Grange and Manor properties' She added 'To help someone who is in cardiac arrest effectively, a defibrillator needs to be found as quickly as possible to give someone the best chance of survival – the new defibrillators are essential to this and we wish to convey our thanks to everyone for supporting the fundraising efforts to make the purchase of defibrillators possible'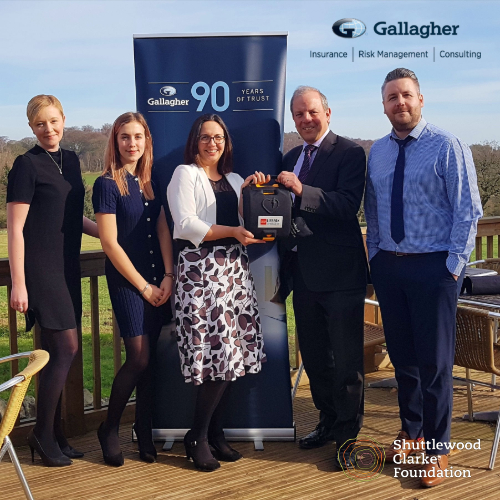 L-R Lianne Boyall, Flo Dennis, Louise Moore, Stephen Webb, Martyn Freeman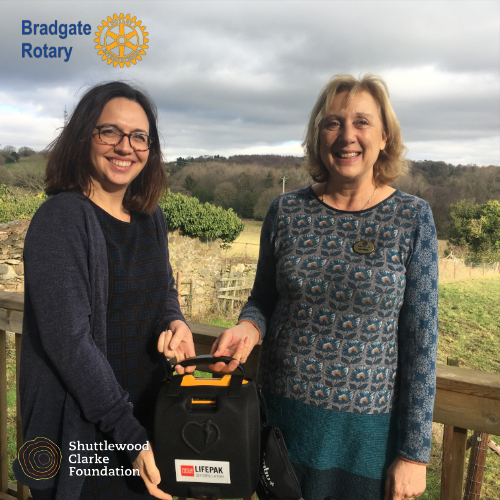 L - R - Louse Moore - Principal Manager, Shuttlewood Clarke Foundation - Jane Black, Bradgate Rotary
Some of our Leicester #Gallagher staff visit @ShuttlewoodC, our charity partner 2018, to see the defibrillator which was purchased with money raised by our Leicester office. #GallagherGives pic.twitter.com/aF0StCBPMD

— Gallagher UK (@GallagherUK) 19 February 2019
Tags:
Please add a comment
You must be logged in to leave a reply.
Login »