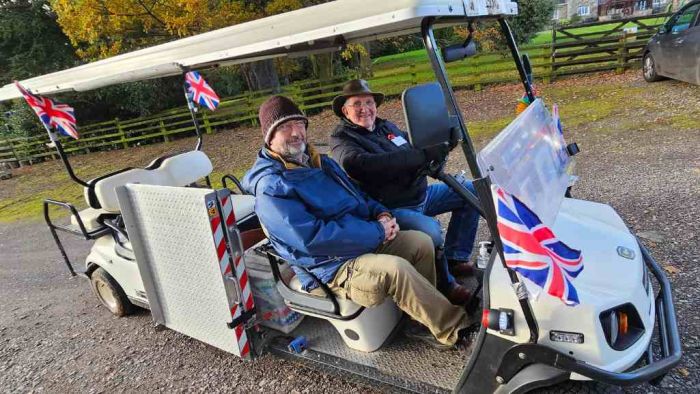 The Grange Buggy Rides
Take a tour of the grounds in our Volunteer driven Golf Buggy which operates from both the Grange and the Manor.
Pictured here are Mick and Bernard.  Mick having been a volunteer for 9 years and Bernard for 2. These gentleman have a wealth of knowledge about the history of the foundation and have a passion for the wonderful grounds that its set in.
Ulverscroft Grange and Manor are situated in picturesque grounds covering 55 acres. If you're not quite up to that trek (which, lets be honest, few of us are) take a tour of the grounds in our volunteer driven buggy.
Our drivers have all been trained on site and can provide a host of local knowledge as well as blankets if required, please let your driver know of any medical conditions they should be aware of.
Buggy trips can last up to one hour (depending on demand), pre-booking is possible however as the buggy is driven by volunteers it is advisable to confirm that a driver is available on the morning of your trip. Please call the office for more information and availability on 01530 244914