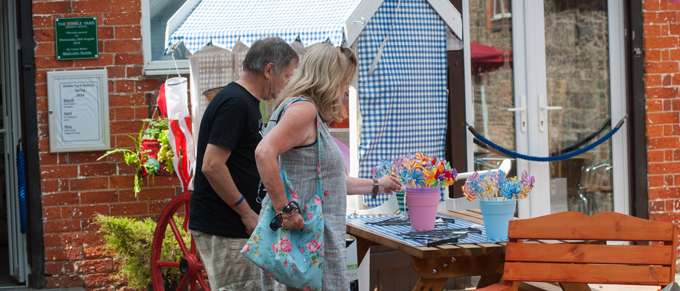 The Grange Charity Shops
All situated in the grounds of Ulverscroft Grange, these magnificent charity shops are Aladdin's caves of bargains.
Please be advised the charity shops are having a refresh!
The stable yard shop will remain closed for refurbishment - REOPEN DATE COMING SOON!
The clothes shop will reopen late in January (to be confirmed).
Thank you.
Please note we are currently unable to receive donations outside of these hours as we adhere to covid guidelines. We are unable to accept electrical items and sofas. 
Our first Charity shop, "SCF Clothing" stocks a diverse range of top quality donated  Ladies, Gents and children ware and accessories.
In addition to this we have our Stable yard shops, housing homeware and our second hand bookshop, "SCF books", with many titles covering all genres. A trip to the Ulverscroft charity shops will never disappoint.
Open 10.00a.m. – 3.30p.m. Monday to Friday - Subject to staffing availability
The Foundation is always looking for top quality clean and undamaged donated items to sell in the shop.
(We regret that we cannot accept electrical items or VHS tapes, cassettes or vinyl or sofas)
How can you help?
Organise an 'unwanted gift amnesty' with your work colleagues and send the items you collect to the Foundation.

Volunteers required to help in the shop.

Publicise the shop to friends and family.
All proceeds from the shops go towards the ongoing work of the Shuttlewood Clarke Foundation.