Volunteer at the Foundation
Volunteers are the life blood of the Foundation, with over 100 dedicated volunteers supporting the core activities of the Foundation. With opportunities for one off support, weekly or more why not consider joining our wonderful volunteering team and help us to help others. Learn a little more about our inspirational opportunities;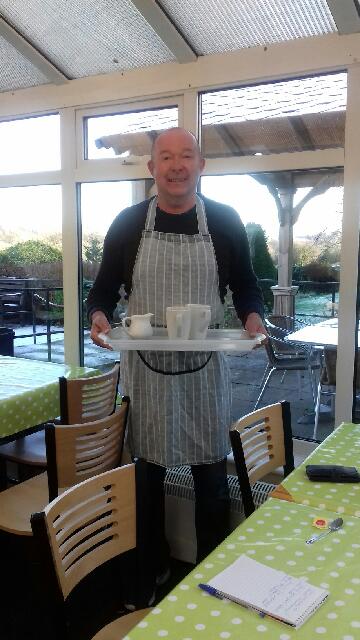 Volunteer Stories 
Alan's Story
My Mental Health recovery Journey
From being in a dark anxious place about nine months ago and not seeing a way forward from this awful bubble I was in and I could not find anything to start putting my jigsaw of a life back together. Then a little miracle happened when Lisa Manly my coordinator got me to do a mindfulness class at Ulverscroft Manor - she also brought me for lunch at Ulverscroft Grange where she found out I could do some volunteering work in the tearooms. I must admit I was not keen to do it for a start and quite anxious about making the decision to say yes. After some kind words about how it would help me, I started the next week. This is when the Sunshine of life started to come back in to my life. 
How I feel about the Foundation
Ulverscroft Grange is a very special place to me. From being in a place where nothing was any inters to me and struggling to get up - evening opening letters and answering the phone. That first morning of volunteering was like the sun coming up on a beautiful spring morning. I could finally start to see the light - It was like my clock had started to tick again. Everyone was so friendly, kind and caring. When I first walked in I got this lovely warm special feeling and I knew this was the start of my recovery. All of the people have become my friends and I count myself very lucky that Lisa brought me that first day. I have made some lovely friends and It has been a wonderful gift I have been given to volunteer in suck a special place. 
How it has improved my life
Like I said nine months ago my life was going nowhere and my anxiety was getting worse. Not wanting to get out of bed - to go shopping, answer the phone, open letters. It was even hard for me to make an appointment at the Doctors. To make a decision is I did go to a cafe if I wanted a sandwich on brown bread / or white - It was a nightmare for me. With my volunteering and my little steps of recovery - day by day I was able to do a little bit . With the kindness and support of the wonderful staff I am about 70 - 80 % back on my recovery. I've learnt its alright not to be ok on some days. On these days there is lots of caring support around me. People with anxiety will tell you the importance of a hug can be like the best medicine or tablet there is. I do mindfulness and other classes at the Foundation - which go a long way to help me keep on the recovery road. 
I have been invited to Glenfield hospital to talk to student mental health nurses and doctors about my journey so it helps them to help others. This is so rewarding! All the people at the Grange are very special to me and miracles do happen - Like on the day that I started volunteering. THEY PUT ME TOGETHER AGAIN
love and best wishes - Alan 
Current Opportunities
Click to open
FUNDRAISING VOLUNTEER
Throughout the year the Shuttlewood Clarke Foundation holds a variety of fundraising events. Volunteers are required to assist at these events; setting up, selling raffle tickets and manning stalls. Volunteers may also have the opportunity to become involved in the planning and organisation of fundraising events and the promotion of these throughout the year.
YEW TRAIL - EDUCATIONAL VOLUNTEER
Based at Ulverscroft Manor, the Shuttlewood Clarke Foundation has a unique outdoor classroom, providing a variety of activities that suit the learning needs and styles of a range of individuals. Here young people can escape the confines of a conventional classroom and observe and investigate a wide variety of flora, fauna animals and birds.
Educational volunteers are required to assist with the activities planned for the day, sometimes leading the activity session. These activities may include, woodland trails, pond dipping, shelter building and mini beast hunts. Comprehensive curriculum linked information and worksheets are provided to support and enhance these sessions.
TEA ROOM VOLUNTEER
Based at Ulverscroft Grange, the Tea Room is open Monday -Saturday 10.00am - 4.00pm and volunteers are required to assist the Cook and Servery & Catering Assistants. This will include taking orders to the table, washing up and assisting where necessary. Please note that this is an active role which can involve being on the go throughout the day.
GROW WITH US VOLUNTEER
Based at Ulverscroft Grange, the Shuttlewood Clarke Foundation runs a Community Allotment project for young people with disabilities. Volunteers are required to assist with aiding the young people and maintaining the allotments in their absence.
ULVERSCROFT MANOR VOLUNTEER
Ulverscroft Manor entertains pre-booked groups of the elderly and adults with disabilities on a daily basis Monday- Wednesday and volunteers are required to assist the cook with preparing vegetables, serving lunches and washing up. This role also includes talking to and befriending our visitors, running a small sales table and selling raffle tickets for the daily draw.
SUPPORT THURSDAY VOLUNTEER
Based at Ulverscroft Manor, the Foundation runs a series of Drop In Support Days on Thursdays for people who have a disability or illness, carers or who are socially isolated. Volunteers are required to assist with the serving of drinks and interacting with the visitors. There is also an opportunity for volunteers to become involved in running a Boccia session or other games.
CHARITY SHOP VOLUNTEER
The Foundation boasts two fabulous charity shops which stock a wide range of quality pre loved goods and items. Volunteers will be required to undertake a variety of tasks including, sorting and pricing of incoming items. General tidying duties and basic retail focused task. If you enjoy meeting and greeting the general public and working as part of a team, this may be the role for you!
If you are interested in becoming a volunteer please contact 01530 244914
Volunteer_Application_Form.pdf